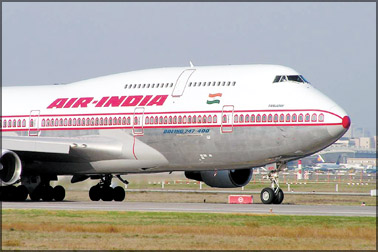 Mumbai:
(Reuters) The RBI has approved extension of the tenure of loans to troubled state-run carrier Air India by five years with the loans now being due for repayment after 15 years, two sources with direct knowledge of the matter told Reuters.
A consortium of 26 lenders to the debt-laden carrier that include State Bank of India , ICICI Bank , Bank of Baroda among others will meet on Monday to discuss the loan recast, one of the sources said, adding the process would be completed within 120 days of the approval.
"I think banks will approve it on Monday. It is in the best interest of banks to do it soon," the source said.
Air India's lenders had submitted a restructuring proposal to the Reserve Bank of India seeking its permission to extend the loan tenure, among other things, the sources said.
Air India, with total loans of $9.5 billion, is in talks with banks to restructure its working capital debt and is in the midst of implementing a turnaround plan to generate cashflows.
The carrier is expected to post a pre-tax loss of 70 billion rupees for the year-ended March, as per government estimates, hit by a bloated cost structure and stiff competition.
The CAG had in September criticised Air India's decision to buy 111 Boeing and Airbus planes in 2005/06, saying it imposed an "undue long term financial burden on the carrier".
The airline has not posted a profit since merging with former state-owned partner Indian Airlines in 2007 and relies on handouts from New Delhi to survive.
The cabinet has approved an equity infusion of $112 million into the ailing carrier.
The aviation minister Vayalar Ravi told Reuters that the government was still in talks with the RBI on Air India's balance sheet, financial position and future projects.
No govt help to Kingfisher
Ravi on Thursday ruled out government intervention for the beleaguered Kingfisher Airlines and said the carrier would have to talk to its lenders and find a way out of its financial deadlock.
"They have to talk to the banks and put their own money. It is for them to decide," Ravi said.
The Airports Authority of India, or AAI, has recently put Kingfisher on cash and carry, meaning the airline would have to pay outstanding dues to the operator to avail its services, an official said.
Airlines generally pay on credit against bank guarantees.
Kingfisher declined to comment on the AAI move.
Earlier in the day, Kingfisher said lessor AerCap Holdings NV would take back two of its aircraft in coming months as both the companies could not agree on extension terms.
Talk heated up recently on state intervention to help Kingfisher on the lines of Air India. Earlier this month, the prime minister Manmohan Singh told local media the government would try to find ways to get the carrier out of its financial trouble.
But Kingfisher's chairman and liquor baron Vijay Mallya said he had not approached the government for a "bail-out".
India's airlines are struggling with surging oil prices, high sales tax on jet fuel and below the belt pricing due to increased competition, leading to massive losses.
They are on course to post record losses of more than $2.5 billion for the year ending March 2012, and investors have become wary of an industry that, just a few years back, ordered hundreds of aircraft in an ambitious bet on the future.
Kingfisher Airlines saw its September quarter net loss double as its net worth eroded, prompting it to approach lenders for a cushion to ease its debt burden.