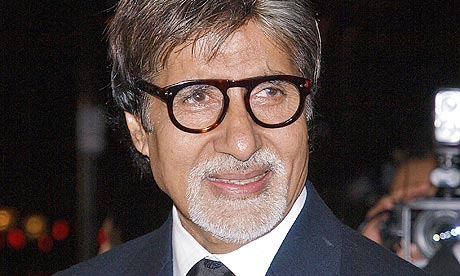 Mega star Amitabh Bachchan, known as the Big B of the Bollywood, invests in small and mid-sized companies as well when it comes to stock market purchases, and is sitting on losses on some of his recent investments.
As per the data available with the Bombay Stock Exchange, Bachchan holds stakes between 1-3% in at least three listed companies -- Neuland Laboratories, Birla Pacific Medspa and Fineotex Chemical.
The total market value of Neuland Labs stands at about Rs 40 crore, while that of Birla Pacific Medspa and Fineotex are Rs 122 crore and Rs 100 crore respectively.
Of these, he has been holding Neuland shares since the last quarter of 2010, while he has purchased shares of the other two companies in the past four months.
His name appears as 'Amitabh Harivansh Rai Bachchan' on the shareholder lists of these companies. Queries sent to him regarding these stock purchases remained unanswered.
A broker said that the filmstar might have invested in shares of large companies as well, but those holdings could be below one%, and therefore, have not been disclosed by stock exchanges.
The listed companies are required to disclose their shareholders having one% or above stake at the end of every quarter.
Bachchan had earlier dabbled into the corporate world by setting up his much talked-about ABCL (Amitabh Bachchan Corporation Ltd) to produce films and other entertainment related activities. The venture was later renamed AB Corp.
Also, the asset and liabilities affidavit filed by his wife Jaya Bachchan as a Rajya Sabha member in 2009 reportedly disclosed investments worth about Rs 122 crore in companies by Amitabh and about Rs three crore by Jaya herself.
The latest purchase, as per data available with the BSE, was of 80,000 Fineotex shares for about Rs 1.2 crore on November 17. Prior to that, he also purchased 90,000 and 1,10,000 shares of the same company on November 14 and November 15, respectively.
Bachchan purchased a total of 2.8 lakh shares of Fineotex on these three days for about Rs 4.6 crore.
At the current market price, these Fineotex shares are worth about Rs 2.5 crore and account for a 2.5% stake in the company.
Fineotex shares today fell by 10% to Rs 87.70. They had scaled a 52-week high of Rs 353 on June 28, 2011.
In another recent investment, Bachchan also holds 16 lakh shares, or a 1.43% stake, in the newly-listed Birla Pacific Medspa. The BSE data shows that Bachchan purchased 10 lakh shares of this company on August 9, 2010 for Rs 1.85 crore.