If you've been watching Bigg Boss 5, you obviously know her only too well.
One of the housemates of the Bigg Boss house, Pooja Misrra appears to be a spoilt, arrogant brat, constantly picking fights and rolling her eyes. She was so uncooperative in the house that she narrowly escaped being evicted in the first week itself, and Nihita Biswas was asked to leave.
For those wondering if it's all an act for the show, here's news. A source closely associated with her tells us Pooja is exactly the same in real life as she is on the show!
We decided to find out just who she really is.
Pooja Missra started her career as a veejay, model, and then actress. She is also a socialite.
She was host of a popular show called Jab We Talk on B4U, where she sorted out 'love' problems.
She later claimed that instead of solving problems, she became the problem instead. This apparently happened because most of the callers said they were in love with her!
Pooja made her screen debut with Shatrughan Sinha's production Mera Dil Leke Dekho, where she had a super hot item number. She also appeared in a few video albums.
Among her other successes is a hot photo-shoot for a calendar a few years ago.
After that, she participated in her first reality show The Big Switch on Bindass TV, where she had to live without any luxuries.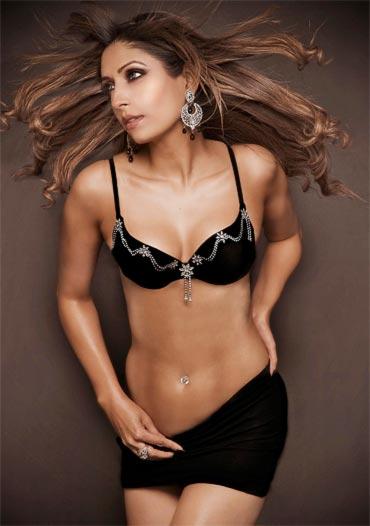 There were reports that while packing her bag to enter the show, Pooja forgot to pack her underwear! She was too embarrassed to tell her co-contestants, but managed to survive two days in the Big Switch house without her underwear.
She once dated a multi-billionaire US-based businessman named Rico, who owned a luxury yacht.
In 2009, just before hotelier Timmy Narang and Isha Koppikar got married, Pooja had filed a police complaint against Isha alleging that she and fiance Timmy were harassing her ever since she resisted Timmy's advances in 2006.
Pooja also mentioned Timmy's sister Ramona and Shatrughan Sinha's wife Poonam in the complaint, alleging that they had installed spyware in her phone and sent rowdies to destroy her car.
In the Bigg Boss house, she recently mentioned that she was single and was eager to see cricketer Jonty Rhodes on the show, who's expected to join in later. She expressed disappointment that he was not in the house already.
That, in a nutshell, is Pooja Misrra.
Courtesy: Rediff.com